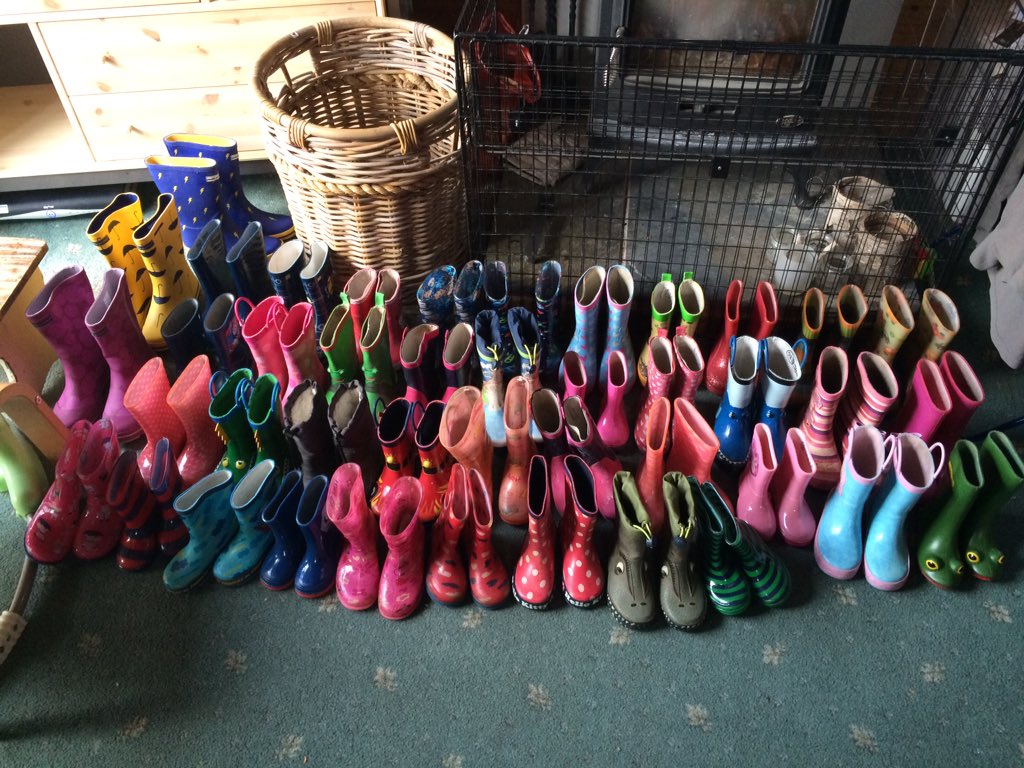 Worcester Welly Library is a 'not for profit' organisation (running since early July 2015) based in Worcester, lending children's wellies to those in need! We aim to help parents provide their child/ren with appropriate footwear. We also accept donations of unwanted wellies from local families, businesses and the community to help reduce the negative impact of landfill.
The idea for the welly library grew out of a conversation on mums net about having to buy 2 pairs of wellies for each child because of needing one pair for Forest School. It started with an idea about people sharing and has grown from there. Recently 2 or 3 companies have donated pairs of wellies which has been a great help. As the wellies are now taking over the house the storage shelves for the shed are a real necessity. Ideally the information should be sent out to children's centres and then maybe local schools to allow more people to use the library, there are currently 100 members. Until a storage solution is set up there is a concern that increased supply and demand could not be met. Any pleas for further donations or purchasing more pairs of wellies can be made once storage is set up.
How will you use the money?
Organised storage space.
Currently, the pairs of wellies are neatly arranged in my son's bedroom (he is 16 weeks old and so isn't his own room yet!). We have recently acquired a second hand shed that my husband will put together in our garden but we would like to build shelves in there to arrange the wellies, which will cost a little to buy the supplies. It would be great if we could cover this cost with funding.
More wellies!
In the short time we have been active, over 50 pairs of wellies have been donated to our organisation and we have started to lend the wellies to several families. We do have an uneven selection of sizes and it would be great to purchase wellies in specific sizes where we have low supplies. I am predicting an increasing demand in the autumn term because many families with Key Stage 1 children need an additional pair at school for Forest School activities. We would therefore like to purchase more wellies, new or second hand, in those age-appropriate sizes.
When will your project start and when will you be able to share progress?
Our project, which is based on Facebook as a closed group, started on 8th July 2015. A community bank account is in the process of being opened so that we can save money for when any financial need arises. As the organisation is in its early stages, facts and figures are in the process of being collected and we would be happy to share them at any point, but maybe after 6 months of being active to make it worthwhile.
We have lots of hopes and plans for the short, medium and long term future to help make this project sustainable and self-sufficient and so would love to connect with other parts of Worcester City community to help as many families as possible.